The Herbs and The Adventures of Parsley   Classic BBC kid's animation by Michael Bond

" PARSLEY'S TAIL "                       " PARSLEY'S GOOD DEED "

A pair of 1969 hardback books,published by the BBC

Written by Michael Bond,and illustrated by a man called Esor,who also worked on the annuals.

They're actually just a straight re-telling of the first 2 Herbs episodes transmitted. That said,the 2nd episode was actually called  "Sage's Nest Blows Down", rather than "Parsley's Good Deed".

Although the latter puts the cover illustration in a better context,because his "good deed" was to levitate Sage's nest back up into the tree using Pashana Bedhi's "magic snake charming pipe".

Both books are hardback ..... about 9" x 7"..... and run to about 26 pages ...... Artwork only.No stills.

Both
very
similar in format & style,so this one double page interior shot is representative of both -
here
.
            " PARSLEY'S  LAST  STAND "                                                      ... and ...                                                  " PARSLEY'S  PROBLEM  PRESENT "

Again a set of just 2 hardback books and once again published by the BBC,only this time in 1970.

Still written by Michael Bond,but unlike the other 2 we get colour photos lifted directly from the series footage rather than illustrations.And they re-tell 2 episodes from The Adventures of Parsley - "Cowboys and Indians" and "Sage's Birthday" (the latter being the classic one where Parsley and Dill decide to give him a knitted balaclava -as you would.)

They're both about 7.5" x 8" and 16 pages long.

Of all the books produced,only these 2 and the board book (below) feature any still photos,which probably makes them the pick of the bunch ....... if only from a nostalgic adult's perspective.

Both
very
similar in format & style,so this one double page interior shot is representative of both -
here
.
Parsley's Last Stand

" Indians ! he howled.

I think I'd better bury my bones while the going's good !

And he disappeared behind his kennel so fast he almost left his tail behind "

Parsley's Problem Present

" Isn't it amazing, he exclaimed, turning to Dill in disgust.

That's the trouble with owls-

they're either awake & grumbling all the time or they don't give a

hoot because they're asleep "

" THE ADVENTURES OF PARSLEY "  ( right )

7 short stories in this 1972 Dean and Son hardback.

Neither the writing nor the illustrations are credited,and the stories don't seem to mirror any from the tv series.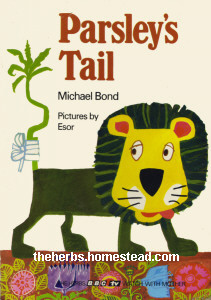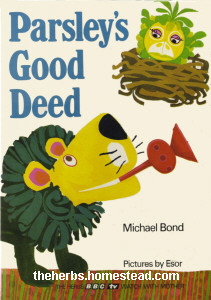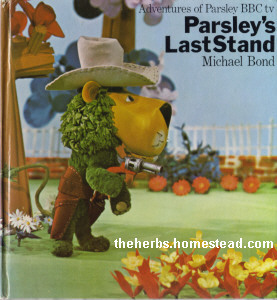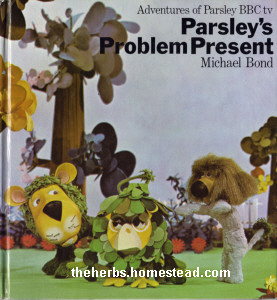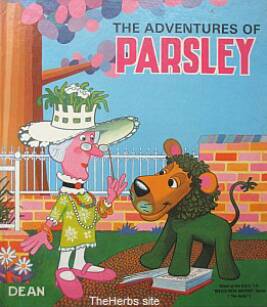 THE HERBS BOARD BOOK  ( left )

Only an old ebay photo so far,and no interior pic. But I've managed to establish it was published in 1968 by World Distributors (Manchester) Limited and is about 7.5" x 7"

It's a simple story book,but elevated above the norm because it has colour photos that were specially staged and shot using the original models and sets rather than lifted from the actual series footage

One other point of interest is that the pages are made out of thick,stiff card for some unknown reason.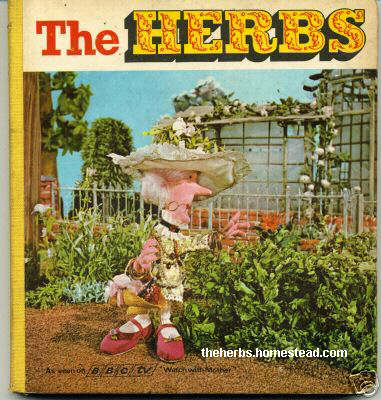 But Dean often used freelance as well as in-house artists and writers,which is presumably what happened with this one.

Nice and colourful,but nothing special.It measures about 8.5" x 9.5" and runs to approximately 20 pages.

A representative double page interior shot is
here