The Herbs and The Adventures of Parsley   Classic BBC kid's animation by Michael Bond

THE HERBS WORKING MODEL BOOK

I was lucky enough to handle a completely intact copy of this a while back.

It was published in 1969 by World Distributors (Manchester) Limited. And what you got for your 2 shillings and 6 pence was a big 12" x 10.5" softcover book of about 20 pages. Illustrated in both colour and black & white,and full of lots of tempting dotted lines and interactive "fold here" instructions and
.......
well,why not take a look at a sample page
HERE
The cut-out characters are particularly striking and "of the period". Although,without knowing it was actually 1969, I'd probably have said early-to-mid 70's as they remind me of images from a series like Crystal Tipps (Constable Knapweed in particular) But see what you think 
HERE
The whole thing has a quality feel,and there's clearly been some serious thought and imagination put into it,which is always good to see.And it'll come as no surprise that completely intact examples are very hard to find these days.

SAGE " TV SLOTTY "

Q. What's a " TV Slotty" when it's at home   ?

A. Well,it's this little "Michael Stanfield Product",published by Purnell in 1968.

And it's actually 2 products in one.With the main part being a story called "Sage the Owl Looks for a New Home" - illustrated with colour photos,and notable for 2 things:-

1) the stills were specially staged using the original models and sets,and...

2) the story was actually written specially by Michael Bond himself -which keen Herbal bookworms will know wasn't always the case with regard to the merchandising.

But the main selling point was the "slotty" bit.With the 2 middle pages consisting of pop-out pieces of card that you "slotted" together to form a model of Sage.And they were completely independant of the text,so you were still left with a complete story book when they were removed.

There were 5 other "slotty's" in this particular series.With the other 4 devoted to characters from the "Magic Roundabout" -Dougal,Dylan,Zebedee and Brian -and 1 to Hector from "Hector's House".

Slightly surprising that Mr.McHenry,Florence & Ermintrude didn't get a look in. Nevermind the fact that both The Herbs and Hector's House only got one a piece. Although the initial surprise at the choice of Sage over,say,Parsley is lessened somewhat when you consider the greater design potential he offered.......and the fab psychadelic artwork they actually delivered !

And here he is
assembled
-minus the eyelashes. (pic courtesy of Dawn Foster-Denham)
Michael Stanfield also produced a larger range of similar "pop-out" booklets -at around the same time,and for the same sorts of kids' tv series too.And they're also a lot easier to find than these strangely elusive "slotty" versions -intact or otherwise. But they all share the same priceless ingredients of quality & fun   (cover & internal pics courtesy of Tony Clark)

TAKE PART SERIES by Ward Locke Educational.

This is one of the long-running educational "Take Part" series of books designed to encourage reading and interaction in young kids -which this extract explains in more detail 
here
This is the only Herbs one.First published by Penguin in 1971,and still being printed by Ward Locke Educational as of 2014.Which is pretty surprising considering the almost total absence of any other official Herbs merchandising.

The 3 stories featured are "Parsley's Tail","Parsley's Good Deed" and "Parsley's Problem Present".And they've been adapted into a read-aloud script format so that kids can play individual roles.

The 56 or so pages are interspersed with black & white illustrations by Ivor Wood. And despite the cover hinting otherwise,there's no colour inside whatsoever.Which is presumably just to keep the cost down,as it's targetted more at schools and groups than a mainstream market.

Available,new,direct from the publishers or,used,via ebay of course.

A representative photo of interior -
here
BBC BUMPER COLOURINGAND FUN BOOK

Large softcover

Approx. 16 " x 12 "

Publishers - PBS Ltd

Publication date - 1971

Series Featured:-

- The Herbs

- Basil Brush

- Hectors House

- Blue Peter

- Crackerjack

- Play School.

A sample page (right)

Crayons at the ready

Pics courtesy of Tony Clark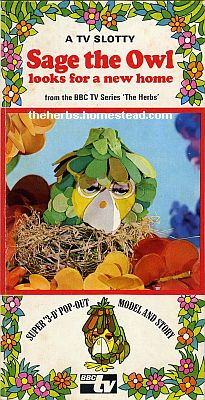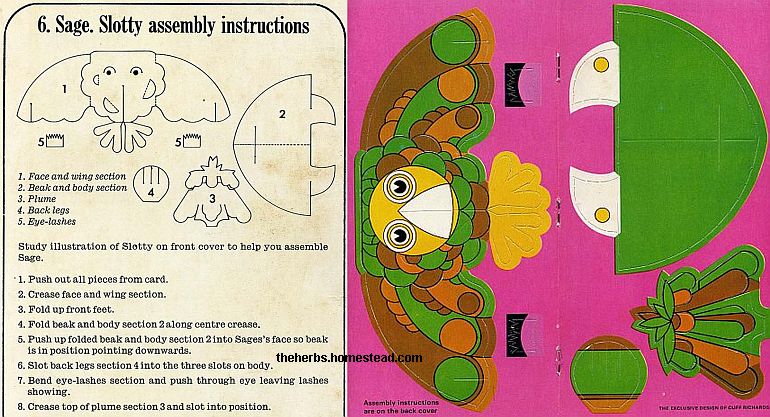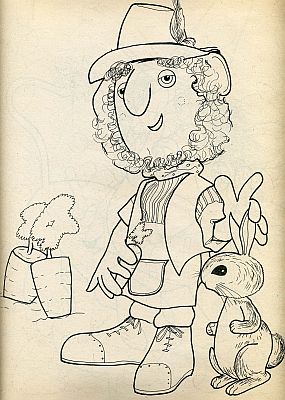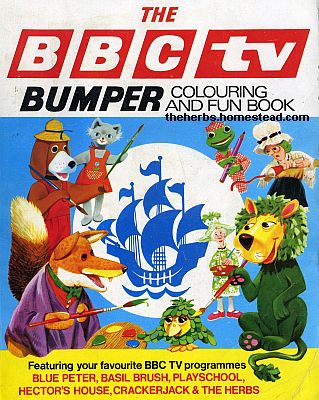 That's a BIG rabbit.

It's sitting down,

& still comes upto his waist.

Hardly surprising.....

judging by the size

of those carrots !

THE HERBS PRESS-OUT BOOK  (below)

The cover pic is all I have for this one. Although it's from the same people as the Working Model book (opposite) & probably the same date too.And I know they also did a "Herbs Sticker Fun Book" and "Herbs Colouring Book" around the same time too.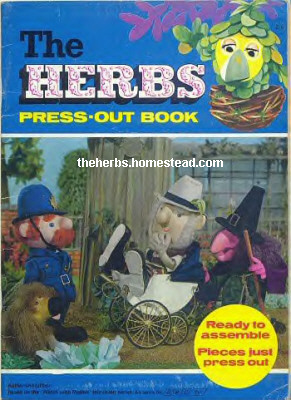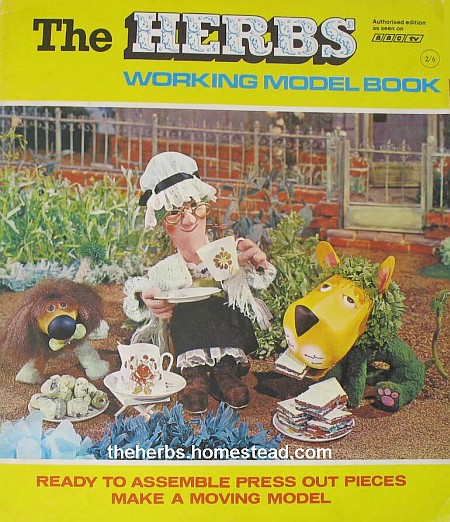 PARSLEY COLOURING BOOK                                                                      and                                                      PARSLEY JOIN THE DOTS BOOK

These next 2 are titled "Parsley" rather than "The Herbs" because they were brought out to cash-in on the sequel in 1970.

And all rather predictable really.

Because once you get past the front covers,there isn't an ounce of colour (or anything else) to inspire the reader.Just page-after-page of the type of b&w drawings below. Which,ironically,are really quite complicated for a pre-schooler to colour-in carefully.So at least you can't accuse the publishers of dumbing-down I suppose.

But,having looked through a lot of Dean & Sons general output,I'm left with the underwhelming impression that they had a sort of mechanical box-ticking approach to kids' publishing,that was at best rather uninspired and,at worst,just plain lazy.

Which is a pity,because I've always felt that publisher's almost have a moral obligation to at least try and put a shift in when targetting young children.And any budgetry constraints can usually be got round if the people concerned have a modicum of flair and imagination.

But,sadly,there's very little sign of any of that here.

By their very nature,activity books should be a collaborative effort between the reader and publisher.But,in this particular case,a few black & white sketches knocked-up one lunchtime seems like a very uneven distribution of labour.And you've just got to hope they were as cheap to buy as they clearly were to produce.

There's no denying that both of these are rare,because these are the only copies I've ever seen.

And that's also more likely to be due to the high disposal rate of activity books rather than poor sales.

But any successful kids tv series of the 60's & 70's was almost guaranteed decent spin-off sales,irrespective of the quality of the item.And good sales figures don't always mean high approval ratings.

So,maybe it just depends whether you think 30 minutes of scrawling followed by a lifetime in landfill justifies the tag of a successful children's product........irrespective of how many they may have sold  ? (Purists v Accountants.....seconds out.....)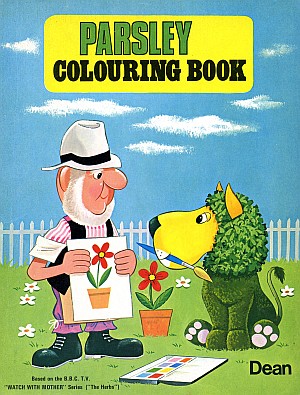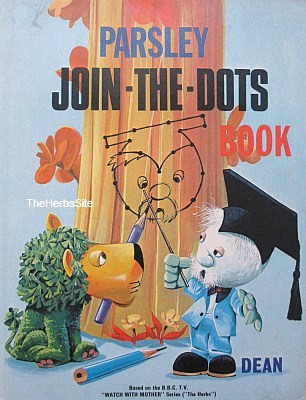 Coloring Book photos courtesy of Tony Clark.                               Join the Dots courtesy of an ebay seller,who requested not to have a name check