These days I work mostly building commissioned pieces for a select group of clients/friends. I call my little creatures DOTs -"Doll Ornament Toys" -as I was never really quite certain what they were.I think of them as just DOTs now ! The characters I've made span the gamut of childhood storybook characters,animated vintage cartoons & even advertising creatures.

The DOTs are made mostly of wood.The smaller, more typical ones have chenille/pipe cleaners,suede,felt,leather, vintage fabric,beads,baubles,bits & bobs of this & that as embellishments.They're free standing (free thinking too) & can be posed.Most of the earlier ones (like the Herbs) measure only about 3-4 inches tall/small. They're not very BIG but they've had a HUGE impact on my world.I am so so grateful to be able to make & share these creatures." End.

My thanks to Judi

I have to admit that I've never personally ventured into the world of crafts,and really don't know much about it.

And that's not because it appears to be a predominantly female preserve.But simply because I haven't got the patience or manual dexterity required to produce anything I'd be happy with.

So you might think I'm hardly best-placed to judge the efforts of others.........and you'd be right.

But you don't need to know how to crack an egg to appreciate the taste of a good omelette.And I personally think these are not only good fun,but look a lot better than most homemade efforts I've seen. (Sage a stand out)

The montage,below ....

is just a small selection of what Judi's made,and she's told me that she's happy to discuss any special commissions you may have at ---> fridabird at rocketmail dot com

       The Herbs and The Adventures of Parsley   Classic BBC kid's animation by Michael Bond

On this page  ..... An eclectic gallery of latter day photos paying hommage to the series

I decided to put this page together to pick up on some of the ways people still tip their caps to the series.

Decades after they first aired and had a terrestrial tv presence,you really wouldn't expect a lot of entries here.

But the fact there are any at all reflects the enduring strength of the legacy.And I wonder how many pictorial tributes will be made to the likes of the Teletubbies in 55 years time  ?

Because let's not forget that 2013 marks 55 years since The Herbs first aired.And,yes,it really IS that long ago !

A centrepiece display in Parade Gardens,Bath. Summer 2013

A centrepiece display lovingly put together by the Bath & North East Somerset Council's parks department.

Unsurprisingly it won a gold award in the RHS Britain in Bloom competition.

And the Royal Horticultural Society know their onions !

Large floral bedding displays probably had their heyday in Victorian times,when labour was cheap and budgetry concerns were usually secondary in matters of civic pride.But many Parks Departments are still doing their best to keep the tradition alive.

By far the most common displays are shin-height,symmetric designs using brightly coloured,flowering annuals.

Not to everyone's taste of course (what is ?) And one man's "colourful" is another man's "garish".But they're always lovingly done.

3 dimensional "themed" displays are far more unusual.And this Herbs one is particularly so,as it seems to cover most plant genres except annuals.Which,coupled with the design must've made it expensive to both produce and maintain.But I think it ably demonstrates that colour and subtlety can go hand-in-hand.

It's well thought-out and beautifully executed.And,yes,I would still being saying that if I didn't happen to run a website called "The Herbs" !

Small children must've loved it.And I'd like to think most adults appreciated it too,whether they knew anything about the series or not.Although I've yet to establish if there's any particular reason why The Herbs were chosen.

Parsley,Dill and Bayleaf the gardener are all represented in "person".

A lot of the other characters are given a nod too by the inclusion of their namesake plants,although not all.As things like onions and chives appearing to be missing.Which may have been purely for practical reasons,as they can look untidy quite early in the season.But I'm only guessing.

There's also a sensible bit of non-herbal pragmatism with the use of things like the grey Sempervivum/House Leeks along the edges and the blue festuca grass to form Dill's hair.

All-in-all a really nice bit of work,and hats off to all those responsible.

In fact,hats off to all our Parks Departments up and down the country.Because.whilst we're sometimes slow to appreciate what we have,we're quick to notice it when it's gone.So let's cherish and support our open spaces.

Below is a photo montage of it being planted-up,
courtesy of The Bath Chronicle. And a pic of it all planted-up,but only early in the season is
here
,courtesy of Andy Wright at http://www.litost.org
Photos courtesy of Sally Ilett

When you view the close-ups,

remember these are living plants.

So you can't expect every single leaf

to be exactly where it should be.

I sometimes think the CGI worlds served up by the likes of Pixar mean we subconsciously expect visions of perfection as standard these days

Next.........Some Homemade toys.

I'll let the lady responsible tell her own story (Judi is based in the USA,hence the "Essex" & "Brit" comments)

Quote:- First,I guess you should know that I am crazy about vintage toys,children's books & illustrations,Trolls, puppets,monsters & creatures of every variety.I have a rather large collection that inspires me & helps to keep me sane (if this is indeed sanity.) I wish I would have known the Herbs when I was young but,alas,I only met them a few years back.My closest friend,Rebecca,(an Essex girl) introduced me to them & some others including the Clangers,Mr Turnip,Noddy,Pinky & Perky,Muffin,Bleep & Booster,Torchy & Basil Brush to name a few.

Although we are adults (allegedly) we both have an affinity for the stories & characters of our youth.

When I met the Herbs,it was love at first sight.

Parsley especially seemed so sweet and somehow familiar.

After watching countless episodes,I knew I had to try to "build" a Parsley for Rebecca.Early in 2011 I did just that.

I also made a Sage to keep him company.

I posted a couple of pics on flickr and about a year later was contacted by Dawn (another Brit).She's got quite a collection and commissioned me to build her the three Herbs in the photo.

I always meant to make some of the others but,well,you know how it is.I adore the little Chives and,oh,that Tarragon the Dragon ! Ha,maybe someday I will get around to it.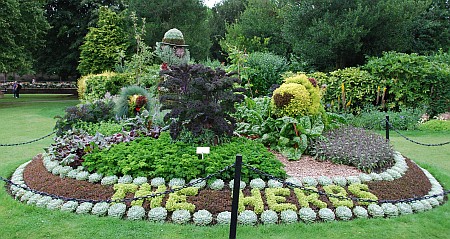 More to follow
.......as and when I find anything of merit.......or you tell me about it. Email address on
home page
.