VHS VIDEO OVERVIEW

If you're reading this,then you've probably got one or two of them that you're looking to get rid of.Unfortunately,the only vhs releases that still have any resale value are those that haven't come out on dvd yet.And the arrival of the dvd boxset means you'll be hard-pressed to give these away,nevermind sell them.

But they're no good to anyone dumped in landfill either,so why not take a look at this recycling site which offers up some alternatives.And the link takes you directly to their vhs page 
www.recyclenow.com
As a matter of record though,all the release details are as follows:-

THE ADVENTURES OF PARSLEY Releases

As far as The Herbs were concerned,you could get all 13 episodes on VHS,but had to buy more than one release to do so.

But,with the sequel,you would have needed to buy 4 seperate videos and you'd still be one short of the full 32 episodes. Because "Old Memories" was missed out entirely for some reason.

Like The Herbs,they're all from 1989 except for the last one listed which is 1991.

And,once again,different companies were involved in their release which accounts for the rather tedious episode crossovers and duplications.

Unlike The Herbs ones though,there's no Mayo and Ruscoe involvement on any of these-which I suppose you can either view as a disappointment or a bonus.Although they're place in Herbal History is non-negotiable.

And one other thing to mention is the episode titles on the sleeves -or,rather,the lack of them.

3 have synopses but no titles,2 don't have either,and the last one has titles but not the official ones !

Anyhow,I've run through each tape to ensure that what's listed below is actually correct.

And I've also used the official titles for the first time anywhere.So these are indeed the definitive contents........

     The Herbs and The Adventures of Parsley   Classic BBC kid's animation by Michael Bond

On this page
.....
All The Adventures of Parsley VHS releases. If you want The Herbs releases,click
HERE
The first 3 videos were effectively released as a set,with sequential reference numbers.

But even if you got all 3 you'd still be missing "The Conch Shell" and "Old Memories".

And remember that "Old Memories" doesn't appear on any of the releases.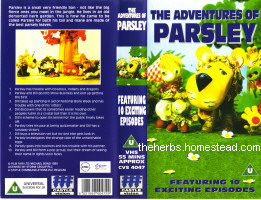 In original broadcast order

"Cowboys & Indians" is episode 1

and they continue from 12 to 20, both inclusive.

Aunt Mint's Barbecue Party

Parsley's Invention of a Mechanical Dog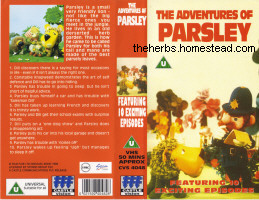 In original broadcast order,

this one runs straight through

from No.'s 21 to 30,both inclusive.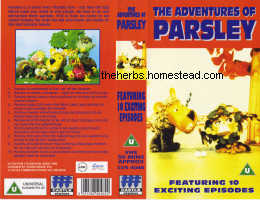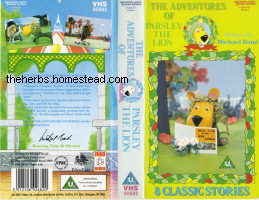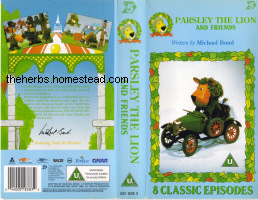 Aunt Mint's Barbecue Party

Parsley's Invention of a Mechanical Dog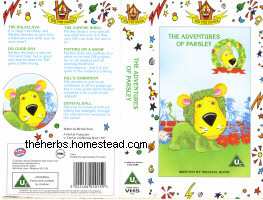 Unlike the other 5 releases,this last one does actually have titles listed.

But as some vary from the actual broadcast titles,I've listed both.

No titles or episode synopses here It only states that it contains

"the first episodes"  -which it does.

Like the one above,there are no titles or episode synopses.

But it follows on from where that one left off,with episodes 9 to 16, both inclusive.

In original broadcast order,

"Taxi Service" is episode 31

and they continue with No.2 to 10, both inclusive.