The Herbs and The Adventures of Parsley   Classic BBC kid's animation by Michael Bond

On this page ..... Fortunately for Michael Bond,The Herbs arrived when comics were still selling well,as kids had none of the counter-attractions available today.

THE HERBS in Pippin

The Herbs first appeared in Pippin in Issue No.107 for the week ending 5th October,1968 - a colour,double page introductory strip -
here
The first Herbs cover (pictured above) was for Issue No.185 for the week ending 4th April, 1970.

The previous 184 issues had all featured the Pogles on the cover,so this was actually quite a noteworthy event in the publication's history.And I can only presume they chose the moment to coincide with the TV debut of the Adventures of Parsley that very same day.

But,just like its' 184 predecessors,2 traditions still remained:-

1) Every front cover was the start of a story that continued on the back page.(click on cover above to see both)

2) Every front cover always had several items hidden in the artwork for you to find.(" Can you find a bottle,a glass and a bell hidden in this picture ? " as it says at the bottom of the green text box above)

The last Herbs strip appeared in issue #459,dated 5th July,1975.A victim of the squeeze resulting from the merger of Pippin with Playland the following week.

THE HERBS in Playland

Whilst The Herbs didn't start appearing in Pippin until October,1968,they'd actually been appearing in Playland since its very 1st issue on Monday 8th January,1968

Which is particularly interesting because it was a full month before the 1st episode hit the screens on February 13th.

A great bit of pre-publicity,and hats off to the person who secured the deal.

It ran continuously until issue #38 dated 28th September,1968 before starting it's run in

Pippin the following week.And nothing to do with any dip in popularity.

Because when you've got 2 publications to fill,sequels can be handy things.Which is why there were 3 seperate strips for Camberwick Green,Trumpton and Chigley for example.And whilst continuing to appear in Pippin as The Herbs,a new strip called "The Adventures of Parsley the Lion" began in issue #86 of Playland on August 30th,1969 -
here
The corresponding tv show wasn't due to air until April 1970 of course.So,once again,Polystyle were generating some pre-screen interest only this time with a whopping 7 month lead-in time.And presumably they were still paying Michael Bond for the privilege,even though it probably should've been the other way round !

Exactly how long the love-in lasted is another matter.Because I've yet to determine when the last strip appeared.....?

The Changing Faces of Parsley

Pictured below are some examples of how different artists interpreted the characters over the years.

They're all taken from Playland.

With a nice spread of 1969,1971 and 1973.

Click on each pic and you can see the whole strip.

The times,they are indeed a-changin' ,as Parsley's mane goes from a groovy tight afro,through to a sort of Jesus Christ Superstar wavey perm.

The strips also serve as a reminder that both publications were a mix of colour and b & w  to keep costs down. So,if we presume they reserved the colour for the most poular shows at any one particular time.......

Issue No. 89 week ending 20th Sept.1969            No.195 week ending 2nd Oct.1971                               No. 294 week ending 25th Aug.1973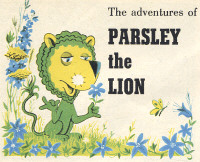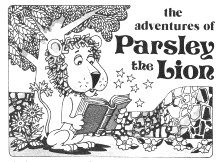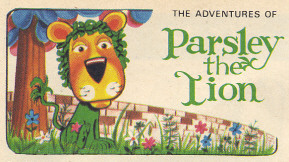 The following section has more emphasis on The Herbs in Pippin and Playland. But also gives more of an insight into how the 2 comics worked together.

To the left, a pic of issue #185 -notable for reasons discussed below.

Below, an ad from Playland 17th July,1971.Mutual plugging and comic strip crossovers showed just how close Pippin & Playland were (more on that below)

......then Parsley's star was clearly beginning to wane by 1973 -even though the series were still on tv.

But that's just a presumption.

And I've also yet to discover if it ever re-appeared in colour again after that .

Oh,and just to say......

That the image of the guitar-wielding Parsley is taken from the cover of a Pippin annual (1972)

(Herbage content in Pippin Annuals:  1971-1976, Herbage content in  Playland Annuals: 1969-1975

PIPPIN COMIC- OVERVIEW

FIRST ISSUE:

Monday 19th September,1966 (wk. ending 24th) as "No.1 of the new coloured picture weekly for the very young viewer."

CONTENT:

Predominantly a tv tie-in for tots,it made good use of the particular Watch With Mother favourites of the period.

At around 16 pages long,it was a mix of colour and black & white strips.Plus a puzzle page,a reader's postbag,where you  could also get a photo of yourself printed,and a bible story.

WHO or WHAT WAS PIPPIN:

He was the young elfin-like central character from "The Pogles".So it's no surprise the series graced
every
front & back cover for the first 184 issues.Most of them featuring Pippin & his furry sidekick Tog,but I've chosen one which has the whole Pogles family -
here
-(xmas '69)
PLAYLAND:

Pippin was so successful that the publishers,Polystyle Publications,launched "Playland" in January 1968.Officially subtitled "companion paper to Pippin" it was a simple 'double your money' cash-in as it had the same basic format, price, number of pages and monday publication date -just different strips.

So,apart from overkill,it was hard to see how it could possibly fail .......and it didn't.

PIPPIN IN PLAYLAND:

Both titles ran very successfully in tandem until 1975 when the almost inevitable happened and they finally merged to form "Pippin in Playland".With Pippin being absorbed into Playland with the 12th July issue (#460)

BUTTONS:

This was another clone which started in 1981-a generally inauspicious time for comic launches.But it followed exactly the same format as the other 2 and did so well that it eventually absorbed Pippin in Oct.1986 (Last Pippin issue- no.1,044, dated Sept.26th,1986),before disappearing itself in the 90's (exact date unknown) But there's no mystery surrounding the reason,as comics were being squeezed-to-death by all the technological and social changes that were successfully competing for kid's time and money.Which is a pity,but at least the memories live on,with a plentiful supply of back issues still available should you ever feel nostalgic.

Helter Skelter Comic
here
Acknowledgements - My thanks goes to Tony Clark for his help with this page.