The Herbs and The Adventures of Parsley   Classic BBC kid's animation by Michael Bond

A set of 6 Huntley and Palmers biscuit tins,designed and produced in 1969 by Huntley,Boorne and Stevens,who were an affiliate company.

They're only small-about 6" in diameter-and embossed on the bottom with "Huntley and Palmer Iced Biscuits for Children"

And whilst I've no idea what the biccies were like,I hope you agree that the wrapping's pretty tasty !

I've had to obtain permission to get these pics and was happy to pay a fee to do so.As all 6 are in the possession of Reading Museum - photos "Copyright Reading Museum Service (Reading Borough Council).All rights reserved".

Why   ? Well,the Company was based in Reading,and when production finally ceased the Museum secured a large collection of their tins and archive material,with the help of Lottery Funding.

And speaking as someone who has no association whatsoever with either H & P or Reading,I reckon it's one of the better uses of Lottery cash,as too much of our social history has been lost through indifference and ignorance.

Thankfully you don't have to agree with that or even buy ticket to enjoy their website.And it's one of the more interesting biscuit company sites that you'll ever visit. (Ok,probably the
only
one !)    
http://www.huntleyandpalmers.org.uk
Because it's really not hard to see why people pay good money to collect them.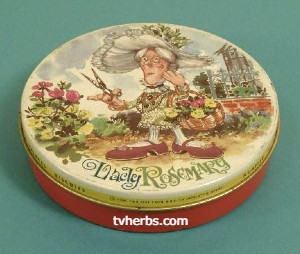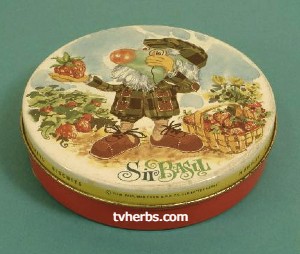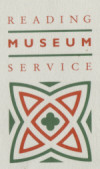 NUMBER 226/3415 "SAGE 'N' CHIVES"

NUMBER 226/3417 "PARSLEY 'N' TARRAGON"

NUMBER 226/3419 "DILL 'N' CONSTABLE KNAPWEED"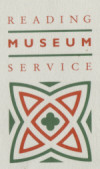 NUMBER 226/3418 "SIR BASIL"

NUMBER 226/3416 "LADY ROSEMARY" 

NUMBER 226/3420 "BAYLEAF 'N' PASHANA BEDHI"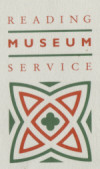 On this page ..... It's biccie time,Huntley and Palmer style.And whilst the company may have perished,their tins live on. Prized collectables or just good looking storage containers. And fully recyclable too !