A nice colourful looking box,in which you got.....

a thin piece of flexible card,slightly smaller than the size of the box,that was covered in light blue felt

a selection of characters and bits of scenery printed on cardboard,that also have the same felt on the reverse.

and this instruction sheet............

     The Herbs and The Adventures of Parsley   Classic BBC kid's animation by Michael Bond

On this page ..... A set produced by Topsail Games in 1970 to cash in on the sequel's tv debut that same year.

And better known to you and me as "fuzzy felt".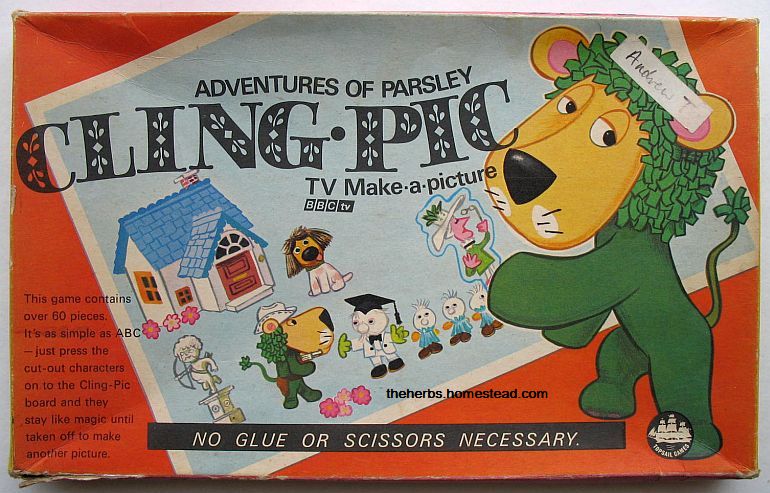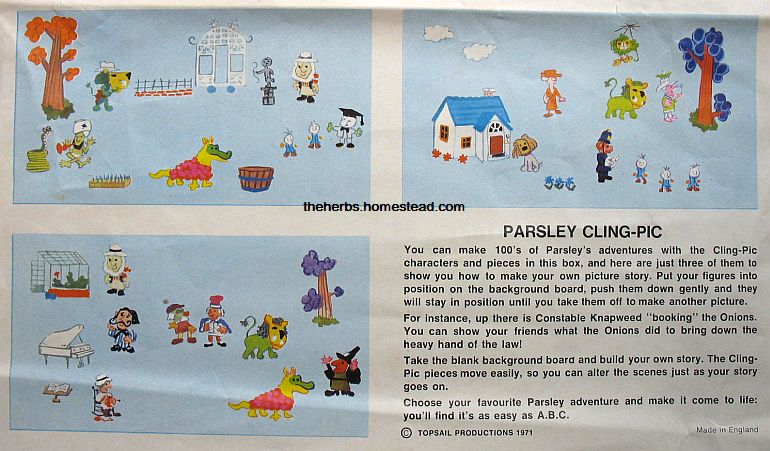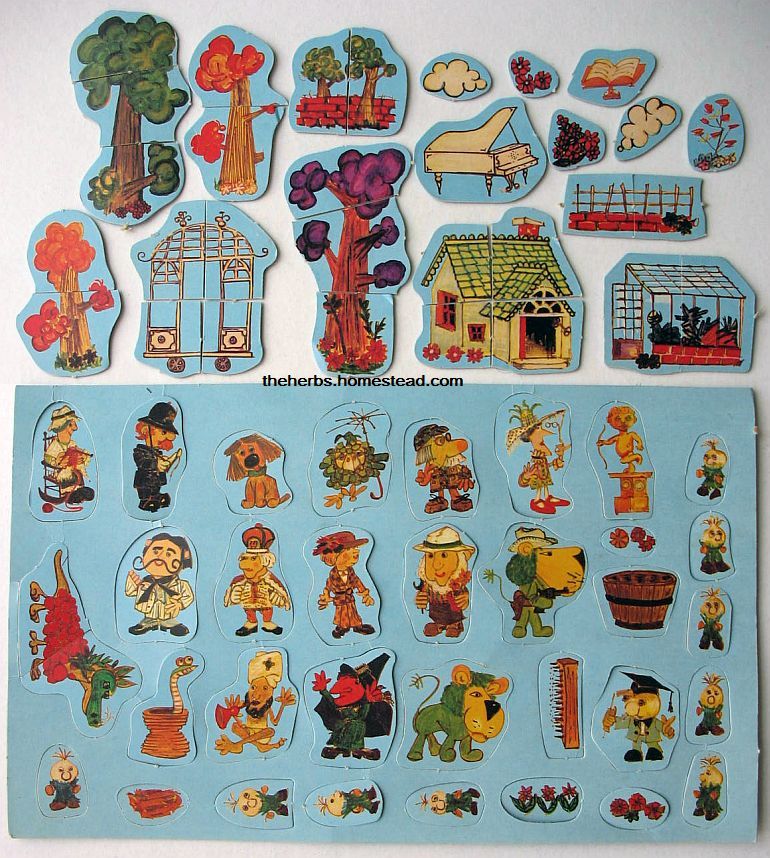 It's true to say that the pieces don't fall off the board if you hold it up.But as it's just felt,and not

velcro,they do need to be pressed down well and even then there are no guarantees.

And,pictured right,is the rather flimsy (and flexible) backing board the set should come with..........

All the pieces came on 2,or maybe3,press-out cards like the one that remains below.Although how

many pieces in total seems to have varied from box to box,as it only states there are "over 60"-

which is slightly puzzling.And this particular set has 65 (if you count things like the big trees as 3 etc.)

Any good   ?

Well,fuzzy felt is fuzzy felt I suppose,even if they probably couldn't call it that for copyright reasons.And it's not been around for decades without having something to recommend it.

The thing that strikes me most about this particular set is that the artwork seems a bit too delicate and washed-out for very young kids,who usually prefer bold and bright imagery.And it's probably heresy to say so too,because it looks like the work of Ivor Wood,who was not only the chief animator but also a very talented illustrator whose work can be seen in the 2 paperback books (details
here
).
And the use of flimsy card for things that were designed to be peeled off repeatedly clearly meant a high attrition rate. Which presumably explains why there are so few survivors,as its launch coincided with the first airing of the tv series,so they must've shifted a reasonable number of units.

Not that I was one of the lucky recipients.And I confess I'm pretty ambivolent towards fuzzy felt in general,because I'm certain I never owned a single set.Although I've subsequently excused this worrying gap in my toy cv by reasoning that they were a girlie-thing anyway.Which seems like a satisfactory bit of "closure"..............even if it might not actually be true !